From Fitz: Underwood has earned his shot at K-State

Four years ago Brad Underwood wanted to stay at Kansas State. Frank Martin was off to South Carolina, escaping the constant micro-management of athletics director John Currie who didn't feel Martin's aggressive image was proper for the school.
Underwood was Martin's associate head coach. He wasn't seriously considered as K-State's head coach, even though the program, under Martin for five seasons and Bob Huggins for one, went to six straight postseasons, including four NCAA Tournaments.
Currie wasn't about to hire Underwood. He wanted his own guy, and found him when he salvaged a freshly fired Bruce Weber, and offered him another chance after he failed at Illinois.
In fairness, it's not hard to blame Currie for passing on Underwood, who probably didn't have the resume for a Big 12 head-coaching job at the time.
Underwood still wanted to stay at his alma mater, where he played under the legendary Jack Hartman. Weber offered him a demotion. Weber's longtime assistant Chris Lowery would be associate head coach. Not Underwood. There's no arguing that Lowery, who had his moments as head coach at Southern Illinois where he succeeded Weber, wasn't also worthy of the title.
Underwood rightfully passed. He followed Martin to South Carolina as his associate head coach, a title he had earned, and one year later became the head coach of Stephen F. Austin in Nacogdoches, Texas.
On Sunday, Underwood's Lumberjacks lost to Notre Dame 76-75 in the second round of the NCAA Tournament. It felt as if the game was stolen from SFA after the game's officials gifted Notre Dame with three crucial calls in the final minute-plus, aiding the Irish's rally.
Stephen F. Austin deserved to win. Period. But you don't always get what you deserve. That's a lesson Underwood will probably be served again very soon.
In Underwood's three seasons at SFA, his teams went 89-14 overall and a remarkable 53-1 in Southland Conference play. The Lumberjacks have gone to three-straight NCAA Tournaments, defeating Virginia Commonwealth in the first round of the 2014 event and then knocking off third-seeded West Virginia on Friday to set up Sunday's game with Notre Dame.
Brad Underwood, who has served as an NCAA head coach for only three seasons, has been to three NCAA Tournaments and won two games.
Weber, highly successful at Southern Illinois before going to Illinois and playing for a national championship in 2005, has won just two NCAA Tournament games in the 11 seasons since that title game.
In 2013, his first season at K-State, Weber directed the Wildcats to their first share of a conference title since 1977, but then they lost in their first tournament game to 13th-seeded LaSalle. The following season, K-State finished fifth in the Big 12 and K-State lost again in the first round of the tournament.
K-State has not only failed to make the NCAA Tournament the last two seasons, it has not participated in any form of postseason play.
Weber's Big 12 Conference records in his first four seasons at K-State: 14-4, 10-8, 8-10, 5-13.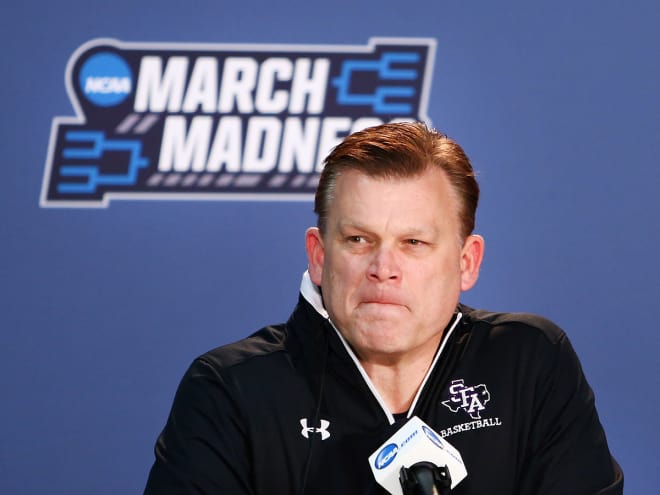 Something else happened following the 2013-14 season besides K-State going to its most recent NCAA Tournament. Currie fired women's basketball coach Deb Patterson, saying, "We have a tremendous commitment to success in women's basketball at K-State. We have a championship tradition. … As we went through the evaluative process, I just felt we were not on a trajectory to get back to the level of achievement that we have experienced in our history and that it was time for new leadership."
Currie noted that Patterson's program had hovered around .500 for the past five seasons. Five seasons of mediocrity were acceptable.
Although he has been oddly quiet since K-State opted to not accept a postseason bid in a minor tournament, Currie is standing resolutely behind Weber, a man he hired. He inherited both Martin and Patterson as head coaches. He strongly believes that Weber should be given a another season to fix his team's roster collapse following the 2014-15 season when the players Weber recruited were purged from the program amid discipline issues, and according to many close to the program, rampant drug use.
A minority of K-State fans have never forgiven Currie for his handling of Martin, who won games but did so in a manner that made Currie uncomfortable. He regularly complained to Martin about his sideline demeanor, his yelling at players, and often much more trivial matters. Five years ago, Martin told me Currie informed him that one of Martin's assistant coaches "stood up" too often during games. That coach was Brad Underwood.
Now Underwood can stand all he wants. He's a successful head coach. This will almost certainly be his final season at Stephen F. Austin. His ability to coach, his teams' tenacious playing style and his command of the sideline are obvious to see. It should be noted, that like Martin, he scowls on the sideline and openly yells at his players, but certainly in a less-volatile manner.
Underwood is reportedly near the top of Oklahoma State's list to replace Travis Ford. Underwood, who grew up in McPherson, Kan., and played at Independence Community College before playing for Hartman at K-State is about to become the head coach at notable college basketball program.
Underwood takes tremendous pride in being part of Hartman's coaching tree. He handles his team much like Jack did. His teams are disciplined and execute on both ends of the floor, Of course, that means Underwood is also a second generation coaching disciple of the legendary Henry Iba, who coached Hartman at, you guessed it, Oklahoma State.
Underwood has never hid his desire to be the head coach at K-State. He's often told me so. In the name of full disclosure, I have known Underwood for more than 30 years, going back to high school when were acquaintances through our mutual friend Kevin Muff, who is now head coach at Pittsburg State. McPherson is 35 miles straight south of my hometown, Salina, in central Kansas.
When we all graduated high school in 1982 (Muff and me from Salina Central), Underwood headed to Independence CC, Muff played at Cloud County Community College, and I went to K-State to study journalism. Two years later, they both signed to play for Hartman at K-State.
Over the past five-plus years I have juggled my friendship with Underwood with my need to step back , be objective and let Currie and Weber do their jobs.
I have not once called for Currie to fire Weber, although I have stated on our weekly Powercat Podcasts that this season's shortcomings would have led me to make a change. My thinking: If you accidently set my house on fire and then I agree to let you rebuild it, you better do it damn fast.
We can all agree that the Kansas State basketball program needs to be rebuilt. Missing back-to-back postseasons and winning just five of 18 conference games in a year should never be acceptable at K-State, but Currie is expected to allow Weber another season to manage this rebuild.
The problem is there's a growing roar from K-State fans who believe that Underwood should be given that task. Underwood's hiring can't wait a year if Weber's effort falls short next season. Underwood will be in his first season at a new program, working his magic there. As his love of K-State shows, Brad Underwood is fiercely loyal.
This is no longer a vocal minority, either. It once was, but as this season progressed, more and more K-State fans moved in the direction of wanting a change. If Underwood moves to a new program — it will be heart-wrenching to Wildcat fans if it's another Big 12 team — his potential success may haunt K-State and John Currie.
K-State fans can only watch this season's NCAA men's tournament and root for other teams. One of those was a team coached by a former K-State player and assistant coach, clad in purple uniforms, fighting like Martin's once-famous Dobermans to win games in the NCAA Tournament.
It wasn't K-State. It was Stephen F. Austin.
Contrary to many unfair, and sometimes vile, attacks on Weber over the past four years by K-State fans, he's a good man and has won 65 percent of his games over 18 years as a head coach. His staff works hard and represents the school with class, but this arranged marriage has never felt comfortable. After four seasons, there is no bond between the K-State fan base and its head coach.
It's time to solve that. It's time John Currie pays attention to the masses and not just big donors. It's time to make this about K-State, not egos, hurt feelings or a need to be proven right for a past decision. It's time to give Brad Underwood the chance to coach his alma mater that he deserves. It's time to obey the fitting hashtag bouncing across the Internet.
It's time to #BringBackBrad.